Indonesia's daily case count crossed 40,000 for three consecutive days, including a record high of 54,517 on Wednesday, Bloomberg reports. The country has aggregated the highest tallies in Southeast Asia, with a total of 2,670,046 cases and 69,210 deaths. Health Minister Budi Gunadi Sadikin said the Delta variant has been found in 11 areas outside of the densely populated island of Java. The current surge in cases has caused a strain on the health system, with widespread reports of hospitals reaching capacity and facing oxygen shortages. In light of the recent outbreak, Indonesia has implemented heightened emergency COVID-19 restrictions in several parts of the country, due to end on July 20.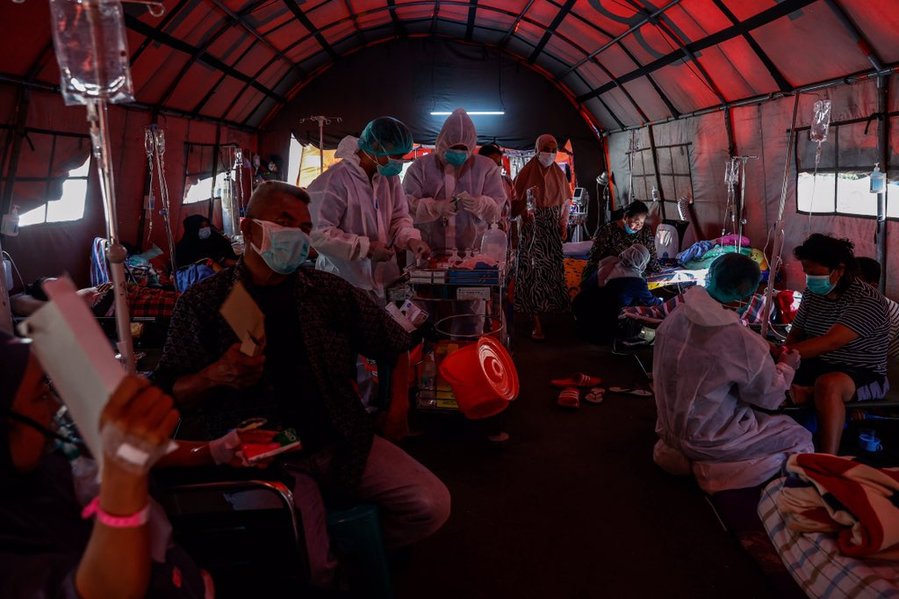 Medical frontlines work to treat patients suspected of having COVID-19 inside an emergency tent in a hospital in Bekasi, Indonesia, June 25, 2021. Indonesia is shifting medical emergency units in Jakarta, Bekasi to tents outside hospitals to create more room for COVID-19 beds.

Scenes from inside an emergency tent in a government hospital, The world's fourth most populous nation reported that overall coronavirus cases topped 2 million this week, while Today's 21.095 rise in infections was the biggest since the start of the pandemic.
Coronavirus disease (COVID-19) continues to wreak havoc inside and outside an emergency tent in a government hospital

Photo via Garry Lotulung